Since November 2021, Y.O.U Underwear has been the highest scoring fashion brand globally and for the past two years was the highest scoring B Corp in the UK, with a record score of 160.5! 
And we are very happy about it, if you couldn't tell...
But, what does the "B" in "B Corp" actually stand for?
The age old question. The "B" in "B Corp" was originally derived from "benefit corporation", a type of for-profit business entity in the US that is legally required to balance its financial goals with a commitment to making a positive impact on society and the environment. In reality, B Corp means many things to many people and our favourite interpretation of B Corp comes from Ghandi's "Be the change you wish to see in the world".
How is a B Corp's impact on society and the environment assessed? Our story...
The certification process is extremely rigorous to ensure that verified companies achieve a minimum score of 80. We started preparing for this journey during the first lockdown in March 2020, with the goal of submitting our application by the end of that year. After lots of research and preparation, we began to complete the application in the September, using the B Impact Assessment as a tool to measure our social and environmental performance. We finally clicked 'Submit' on 23rd December, so just within my self-imposed deadline!
The next stage is the verification process, which for us began over 10 months later due to the backlog of brands applying throughout the lockdowns! At this stage we had to provide evidence of all the socially and environmentally responsible practices across our business, everything from energy supplies, waste and water use to worker pay, diversity and corporate transparency. We also had to meet the B Corp legal requirement by amending our Articles of Association to embed a commitment to consider the impact of decisions on all stakeholders. This was a chance to really make the Articles our own and customise them to our personality and values as a business, which was important to me. 
The B Impact Assessment is a serious undertaking, so we couldn't have done it alone! It was so valuable to get the input of local B Leaders and the Oxfordshire + B Local group. We also greatly appreciated the help of other small businesses who readily shared their tips and learnings.
In November 2021, we finally got the good news that we'd certified - with an amazing 30 + points more than we'd submitted with, which reflected how many things we did which we just took for granted. All that was left to do was to sign the B Corp Agreement and the Declaration of Interdependence - and of course do a happy dance!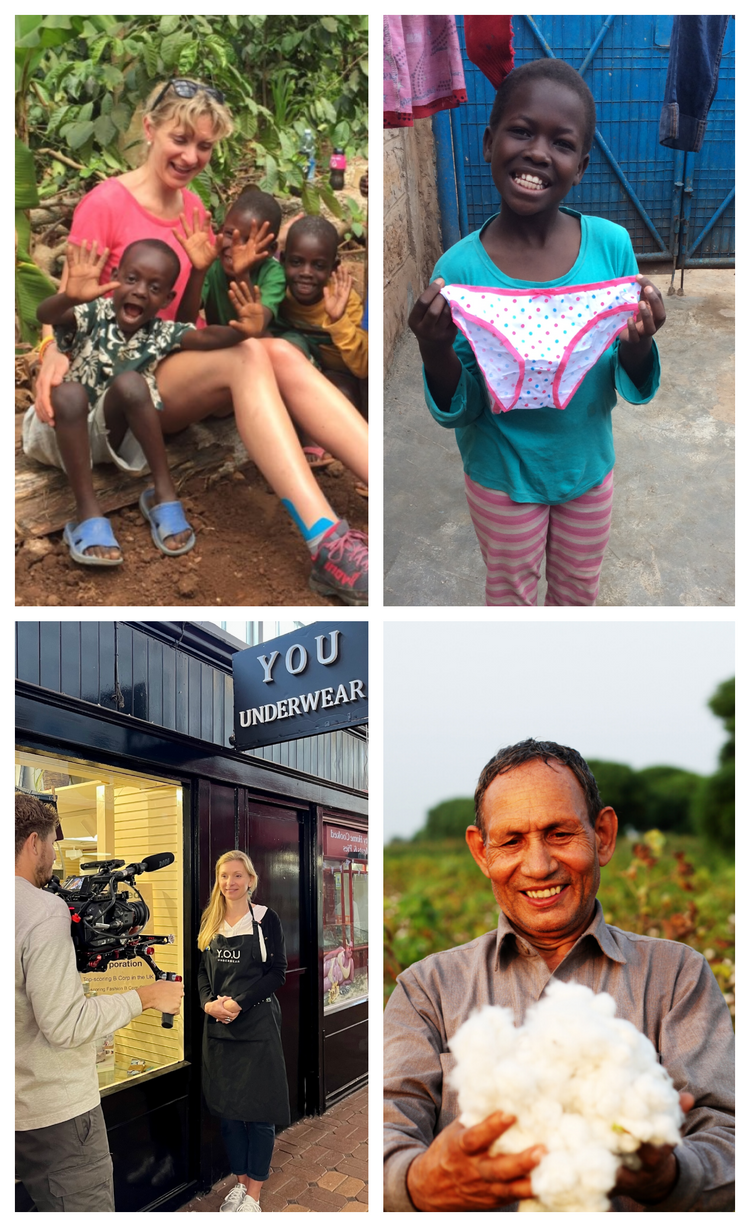 Why is the certification important to us?
At Y.O.U Underwear, our main goal is to make a positive difference to the world, and becoming certified as a B Corp was a no brainer but also an important milestone in this ongoing mission. It felt great to receive the external verification that we were going in the right direction and have a great framework to continue to improve. Having our work backed up by something as respected as a B Corp certification was really helpful to build trust and support for our message. Unfortunately, the fashion industry is rife with greenwashing so this helps to show our customers that we are doing what we say we are.
One of the greatest benefits of becoming a B Corp is the community, with over 1,500 B Corps in the UK (as of September 2023), representing over 58 industries and more than 60, 000 employees. This allows us to work with and learn from other like-minded businesses, which is invaluable.  After all, it is easier to make a difference together! 
Our plans for the future as a B Corp...
To ensure that B Corps continue to meet the established standards and maintain their commitment to benefitting society and the environment, recertification is required every three years. This ongoing process reinforces the core values and principles of B Corps and contributes to the credibility and impact of the achievement. So whilst we may not be looking forward to going through the rigorous process again, we do know why recertification is so important! 
Part of the B Corp principles are around continuous improvement and recertification is a chance to do that and hopefully take further steps in your impact journey. Despite our high score, we definitely have lots of areas we want to improve in, so topping the 160.5 would be amazing. 
We have also committed to being a net zero business by 2030, if not before, so that is something that we'll be focusing on in the coming year. We also want to extend our current underwear recycling programme to a full fibre-to-fibre approach to repurpose items into new fibres and fabrics. It's still both technically and financially difficult for us, but we like a challenge so watch this space! 
We will be sharing more about our B Corp recertification journey over the coming months, including an 'Ask Me Anything' session with our CEO Sarah, so let us know if you have any particular questions you would like answered. 


Enjoyed reading this? Why not read...
Celebrating B Corp Month - The Oxford businesses that put people, planet and purpose over profit.